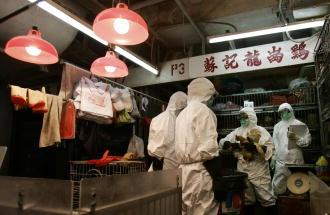 HONG KONG health workers slaughtered 2,700 poultry in a market on Saturday after chickens were found to be carrying the dangerous H5N1 bird flu virus, officials said.
The slaughter may be extended to all live poultry in the territory if the virus is detected in any other locations, Secretary for Food and Health York Chow said.
'Since we have detected the virus in the market, we will cull all the chickens in this market,' Mr Chow told reporters. 'If we find another positive detection in another market, then we will assume that the risk is much higher and we need to cull all the chickens in all the markets.'
Hong Kong TV Cable showed health workers wearing protective gear placing live poultry from nine stalls into bags to prepare for the slaughter.
Routine bird flu checks detected the H5N1 virus in five samples of chicken waste. The samples were collected June 3 from three vendors in the market in the Sham Shui Po residential district, Chow said.
Health officials declared the market an infected area and suspended all sales of live poultry there, a government statement said.
Mr Chow said authorities were tracing the origin of the infected chickens.
Mr Chow also ordered a 21-day ban on the supply of live poultry from mainland China and from local farms.
Occasional H5N1 infections in wild birds are common in Hong Kong but the territory has not suffered a major outbreak of the disease since the virus killed six people in 1997.
That prompted the government to slaughter the territory's entire poultry population of about 1.5 million birds.
At least 241 people have died of bird flu worldwide since 2003, according to the World Health Organisation.
Most human cases have been linked to contact with infected birds, but health experts worry the virus could mutate into a form that passes easily among humans, sparking a pandemic that might kill millions of people.