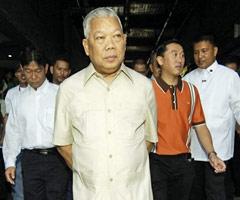 At least 8,000 Thai protesters Friday pushed past a police barricade to the gates of Prime Minister Samak Sundaravej's office, demanding that he resign.

About 5,100 police had held them off for more than three hours, but a group of the protesters finally pressed past the police shields.

Security forces did not try to force them back, and more protesters followed them to the gates surrounding the prime minister's compound.

The protesters from the so-called People's Alliance for Democracy (PAD) accuse Samak of acting as a proxy for ousted prime minister Thaksin Shinawatra, who was toppled by royalist generals in a 2006 coup.

The PAD spearheaded protests against Thaksin in the months leading to the coup, raising fears of a new military intervention.

Draped in royal flags and symbols, the group is led by an unusual collection of activists, including a media baron and a retired general who now leads a sect of extremist Buddhist monks.

They consistently invoke imagery tied to Thailand's revered King Bhumibol Adulyadej, wearing yellow scarves, shirts and headbands -- a colour associated with the day of the week when the king was born.

Their banners carried slogans such as "We fight for the king and our Thailand," and "Get out of Thailand, Thaksin."

Police in riot gear stood guard around Government House, waiting with teargas and water cannon, but a government spokesman said they would only be used as a last resort.

"Police will only use tear gas or water cannons in accordance with international crowd control practices," Nuthawut Saikua told reporters.

He also rejected the calls for Samak to resign, saying: "This is a government of the people."

Samak moved his meetings for the day to the foreign ministry, while most Government House staffers were sent home.

The protesters have blocked a road near Government House for nearly four weeks, raising doubts about Thailand's political stability and battering the Thai stock market, which has dropped 15 per cent since the protests began.

The protesters represent an elite slice of Bangkok, drawing support from the middle class who felt alienated by Thaksin, and from Thailand's traditional power centres close to the palace and the military.