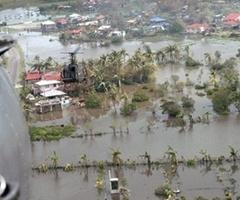 Flash floods and landslides triggered by Typhoon Fengshen have left at least 12 people dead and forced the evacuation of thousands of others in the Philippines, officials said Saturday.

The Risao river in the town of Upi in southern Maguindanao province overflowed and washed away at least five houses, army spokesman Lieutenant Colonel Julieto Ando said.

Ten people drowned while at least eight others were missing, Ando said.A landslide buried several houses at a slum area in Cotabato city, also in the south, killing two people, officials said.

Four farmers meanwhile were also reported missing nearby, officials said.Roads connecting the southern cities of Cotabato and General Santos were flooded, while a concrete bridge also collapsed, isolating some villages and towns, Catholic-run radio station DXMS reported.

The storm forced over 200,000 people to seek temporary shelters in the eastern Bicol region, the civil defence office said.

It also uprooted small trees, blew away tin roofs and caused power outages in the central Visayas region.

Early on Saturday Fengshen was tracking a west-northwest direction, packing winds of 140 kilometres (87 miles) an hour.

It was forecast to dump heavy rain over large parts of the central Visayas region and parts of the main island of Luzon for the rest of the day, the weather bureau said.

Residents in low-lying areas and near mountain slopes were warned against possible flash floods and landslide, while those in coastal areas were told to watch out for big waves.

Officials said domestic flights going to the central Philippines have been suspended, while inter-island ferry services were also halted.

"There have been flights cancelled," said Office of Civil Defense deputy head Anthony Golez, advising residents to stay indoors.

"If there are untoward incidents, the armed forces are prepared to deploy," he said, adding that up to 200,000 people were evacuated to temporary shelters in the Bicol region as a precaution.

Government agencies were also instructed to stockpile on relief goods, while state-run hospitals were placed on alert.

Coast guard spokesman Lieutenant Commander Armand Balilo said 21 inter-island ferries were barred from leaving port in the central city of Cebu while one vessel ran aground in the central island of Samar.