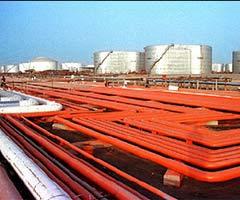 World oil prices held steady Tuesday in sight of record levels partly over concerns about violence in oil-rich Nigeria and despite a pledge by key producer Saudi Arabia to raise output.

New York's main oil futures contract, light sweet crude for August delivery, was 10 cents higher at 136.84 US dollars per barrel after a gain of 1.38 US dollars to 136.74 on the New York Mercantile Exchange Monday.

Brent North Sea crude for August was one cent lower at 135.90 US dollars a barrel.

Saudi Arabia said at an unusual weekend summit of oil consumers and producers that it was hiking daily output by more than 200,000 barrels to 9.7 million.

The move was expected but the world's lynchpin crude producer said it could significantly raise output again if necessary.

"Everybody's waiting to see exactly what OPEC can or cannot do," said David Johnson, an oil analyst with Macquarie Research in Hong Kong.

Saudi Arabia, the leading producer in the Organisation of the Petroleum Exporting Countries (OPEC) cartel, called the summit after oil prices almost doubled in the past year to just shy of 140 US dollars.

Soaring crude costs have triggered protests in several countries and fears for global economic growth, and analysts said the Saudi pledge had failed to allay concerns about tight global supply.

The White House on Monday welcomed the Saudi announcement but expressed scepticism that the move would impact US petrol prices much.

The oil minister of OPEC member Kuwait said on Monday his country would raise its output capacity by 300,000 barrels per day by the middle of next year.

Mohammad al-Olaim said in statements cited by the official KUNA news agency that the emirate will spend 55 billion US dollars over the next five years on oil development projects.

His comments came after the weekend summit called for an increase in investment to ensure adequate supplies.

Analysts said oil prices have been underpinned by recent attacks against foreign oil installations in Nigeria.

Militants blew up a key Chevron oil supply pipeline in the latest attack targeting the country's oil industry, company and military sources said.

The US oil giant was forced to shut down operations after the attack in the Niger Delta, halting output by 120,000 barrels per day, an industry source said.

The Anglo-Dutch oil giant Shell has also said it cannot promise to deliver 225,000 barrels per day for June and July following an unprecedented raid on its offshore Bonga oilfield.

Nigeria's top military and security officials met Monday with oil company executives and parliamentarians to try to thrash out a solution to the worsening security situation in the Delta.

The Nigerian navy has sent two frigates to patrol near the Bonga oilfield.

Unrest in the Niger Delta has cut total oil production in one of Africa's biggest producers by a quarter over the past two years.